install
Install Instructions for the original handbrake cover. Follow Carefully - Do Not Skip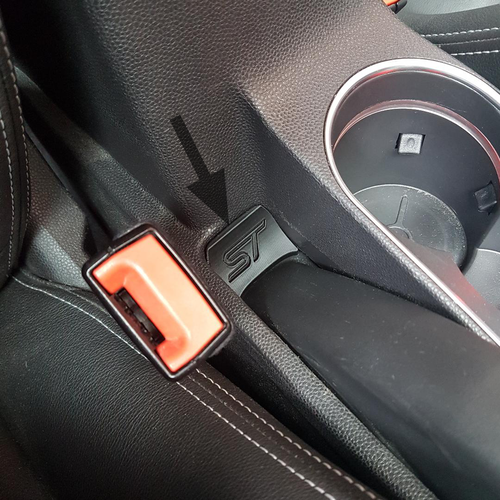 Make Sure To Follow This Guide Fully Otherwise It Will Be Lost Inside The Centre Console. If This Occurs You Can Remove The Screws At The Back Of The Armrest To Access The Area. Gorrila Mounting Tape Is Used For A Secure Bond And An Isopropyl Wipe To Ensure The Area Is Clean First. If You Want A Permanent Bond You Can Use Hotglue. Do Not Use Superglue As This Can Mark Your Interior.
Foot Brake ON - Handbrake In The OFF Position
Grip The Front And Back Of The Part, Lower Into Place. It Will Be A Tight Fit With Resistance To Help Positioning, Test Fitting With The Backing Tape Still On Is Advised
Using One Finger Underneath To Help Keep At The Top, Line Up With The Top Edge On The Bottom Of The Armrest. (Picture Shows The Top Edge)
Remove The Part And Remove Backing Tape, Once You Are Confident In Where It Will Be Fitted Follow Step 2 And 3 Again And Ensure The Double Sided Tape Doesn't Touch The Centre Console Curved Cutout Until It Is In Position
Slowly Put The Handbrake ON To Test The Travel Of Your Handbrake. If The Handbrake Touches The Part You May Need To Adjust Your Handbrake. ( 3-4 Clicks On Your Handbrake Is A Good Setting )
Give The Double Sided Tape Time To Bond Fully ( Overnight 8 / 12 Hrs Recommended )
If You Have Made A Mistake And Have Fitted It Too Low, Use A Small Clean Flat Head Screwdriver To Prize The Tape Back Up To Re-Position. Use The Isopropyl Wipe To Clean The Screwdriver. Be Gentle As To Not Damage The Tape.
Cold Days May Affect Bond Time. In Winter It Might Be Advised To Run The Engine With The Heater On, Put The Tape Near The Heater Vents And Make Sure To Switch The Engine Off Before Fitting, We Don't Want Any Accidents!
Remember To Fix The Part At The Very Top As Shown In The Picture. This Way It Will Not Catch The Handbrake, This Is Where Alot Of People Go Wrong.
Thanks For Buying And Enjoy Your Product!
PRODUCT DISCLAIMER NOTICE IT IS IMPORTANT TO CHECK THAT THIS PRODUCT CLEARS YOUR HANDBRAKE WITH NO INTERFERENCE. ANY PERSONAL INJURY OR DAMAGE TO YOUR VEHICLE FROM THIS PRODUCT, WE WILL NOT BE HELD LIABLE WITHIN THE INSTALLATION PROCESS OR IF INSTALLED INCORRECTLY